Archive for the 'BRASA Belgium' Category
Brasa is proud to announce to have two brand new blackbelts:
Wim Deputter and Arbi Muradov just received their black belt by hands of Felipe Costa! Both fighters have been at the top of the belgian BJJ scene for several years now, and are well known and welcomed guest in other clubs for their expertise and teaching skills. Even abroad they have been making a name for themselves: Wim has been teaching quite a lot in Mexico, whereas Arbi has been teaching classes in Russia and has even single handedly set up a new Brasa division in Chechnya.
So after all these years of training, blood, sweat and tears (-usually produced by the guys who train with them 
) Brasa Belgium is ever so proud to see them rewarded with the renowned black belt in Brazilian Jiu-Jitsu.
—-
Brasa heeft er maar liefst 2 nieuwe Black Belts bij:
Wim Deputter en Arbi Muradov hebben hun zwarte gordel ontvangen van Felipe Costa. De twee vechten al jaren in de top van Belgische BJJ-scene, en zijn graag geziene gasten in andere clubs voor hun expertise en capaciteiten als lesgever. Zelfs in het buitenland hebben ze al naam gemaakt: Wim heeft al heel wat les gegeven in Mexico en Arbi trekt geregeld naar Rusland om er hetzelfde te doen. In Tsjetsjenië heeft hij ondertussen zelfs een eigen team onder de Brasa-vlag opgericht.
Na al deze jaren van training, bloed, zweet en tranen (dit laatste vooral bij de vechters met wie ze trainen 
) zijn we bij Brasa België bijzonder trots om deze vechters beloond te zien met de befaamde Black belt in Braziliaanse Jiu-Jitsu!
This week we're focussing on how to take the back.
Taking the back is a very important skill, and one of the best tickets to ultimately being able to submit an opponent.
There are many strategies and techniques. We will go over some of the techniques that Felipe Costa showed when he last visited Brasa Team Belgium in september.
Tip: get the iphone app for an ultimate overview: Felipe Costa Brazilian Black Belt iphone app
Deze week trainen we vooral enkele technieken om 'de rug te nemen'.
De rug nemen is een belangrijke vaardigheid in braziliaans jiu-jitsu, grappling en MMA, en één van de beste manieren om uiteindelijk de tegenstander te kunnen submitten met een wurging of klem.
Er zijn natuurlijk veel strategieën en technieken. We herhalen enkele technieken die Felipe Costa getoond heeft toen hij in september heeft lesgegeven in Leuven bij Brasa Team Belgium. Zie ook de iphone app voor een handig overzicht: Felipe Costa Brazilian Black Belt iphone app
On 30 september 2011,  after more then 13 years of training Ken Van Gilbergen received his black belt brazilian jiu-jitsu by hands of multiple World Champion Felipe Costa. Ken reacts: "it feels like an amazing reward for all the hard work and dedication. I learned a lot from different people, being it instructors or students ".  He continues thanking all the people who ever trained with him , especially Felipe for sharing all the knowledge while listening to the endless questions and Wim for the thousands hours of rolling.
Felipe Costa says: "Back in 2004 I gave my first belt ever to Ken Van Gilbergen, from Belgium. Today he got his black belt from me. It was very special moment! Congratulations"
Anybody who has trained with Ken will gladly confirm he is without a doubt one of the most technical BJJ fighters in Belgium. Ken has been a pioneer and has helped set the path of BJJ in Belgium and is now – well deserved – one of the first true Belgian Black Belts in the art of Brazilian Jiu-Jitsu.
Brasa  Belgium is proud to have Ken as one of the head teachers in the team today.
Check out ALL PICTURES HERE / Veja TODAS as fotos AQUI
"Back in 2004 I gave my first belt ever to Ken Van Gilbergen, from Belgium. Today he got his black belt from me. It was very special moment!Congratulations" Felipe Costa
"Em 2004 graduei pela primeira vez um aluno: Ken Van Gilbergen, da Bélgica. Hoje ele recebeu a faixa preta de minhas mãos. Um momento muito especial! Parabéns" Felipe Costa

Felipe Costa komt vanaf 26 september tot 1 oktober 2011 naar België om te les te geven bij Brasa Belgium (Exit BJJ Leuven).
Felipe Costa is Black Belt in Braziliaans Jiu-Jitsu, is meervoudig wereldkampioen en behoort tot de meest technische BJJ-vechters ter wereld. Hij woont in Rio de Janeiro, maar is erg vaak 'op reis', aangezien hij een graag geziene gast is in vechtclubs over de hele wereld.
Bij Brasa Belgium kennen we Felipe erg goed; hij komt al sinds jaren in Leuven en Antwerpen om training te geven bij Exit BJJ (nu Brasa). Hij staat trouwens ook voor het uitreiken van gradaties in onze club.
We kunnen alleen maar aanraden om er bij te zijn. Felipe is niet alleen een super vechter, maar bovenal ook een zeer goede lesgever. Zowel beginners als (heel) gevorderden zullen bijzonder aan hun trekken komen.
We zullen daarom elke dag BJJ trainen tijdens de laatste week van september. Don't miss out!
De trainingen zijn trouwens ook open voor niet-clubleden; voor meer info mail gerust.
Seminar met Felipe Costa van 27/9 – 2/10 in de Sportoase te Leuven.
Deelnameprijs = 50 euro voor de ganse week of 15 euro per les. Voor meer info kan je mailen naar wim_deputter@hotmail.com of een bericht sturen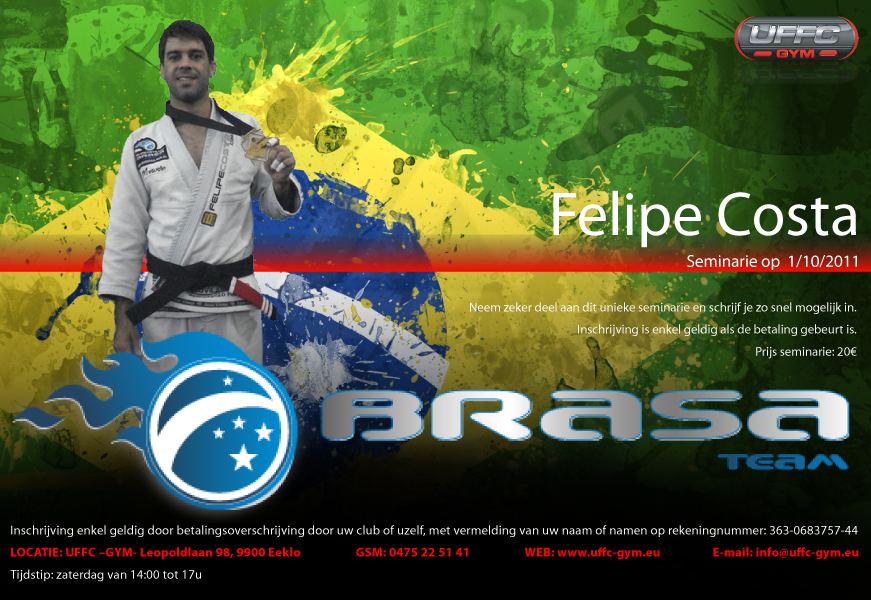 At Brasa Belgium we aim for a high technical level. And it's paying off: we are getting good results at competitions. But there's even more proof: our higher belts are  popular guests teaching in other gyms and martial arts seminars. Since recently, things have even taken an international turn. For example, Wim Deputter, a Brasa brown belt and national MMA champion, is teaching BJJ and MMA in Merida (Mexico) for a couple of weeks. It's his second visit to Mexico: last year he won the national Mexican BJJ championships. And there's more: apart from Wim, Arbi Muradov, another one of our top BJJ players, is traveling to Russia and Chechnya at the moment to train and teach BJJ in those regions.
Bij Brasa mikken we op het hoogste niveau qua vechtsport. Dat het op dat vlak wel goed zit, blijkt niet alleen uit de competitieresultaten. Onze lesgevers worden immers regelmatig gevraagd om seminaries en stages te geven bij andere clubs. Tegenwoordig zelfs op internationaal vlak. Zo is Wim Deputter enkele weken te gast bij een BJJ club in Merida (Yucatan, Mexico). Hij geeft er les in BJJ en MMA. Het is de tweede keer dat Wim naar Mexico afzakt. Vorig jaar won hij daar nog de Mexicaanse kampioenschappen BJJ.
Binnenkort reist Arbi Muradov, die bekend staat om zijn vernieuwende maar bijzonder effectieve BJJ-stijl, naar rusland om ook daar seminaries te gaan geven. Ook Tsjetsjenië komt wellicht op de planning. Meer info daarover volgt!
http://www.brasateam.be/general/wim-deputter-at-merida-mexico/